Wall, Step & Swimming Pool Coping - Coming Soon!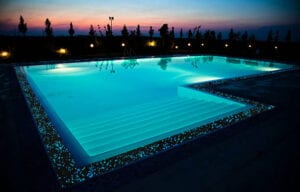 The smooth ambient surface of Glow Path Coping offers many design opportunities that are only limited by your imagination. Whether you are looking for something stylish to surround your pool or searching for a unique step application or capping off a retaining wall Glow Path Coping is the answer.
Wall Coping – COMING SOON!
Wall coping is designed to provide a protective top surface for wall structures. Coping is designed with sloping edges either in one direction or in both directions. The sloping edge of wall coping is what allows water to be safely channeled away from the wall opening.
Step Coping – COMING SOON!
Steps can also be created using Glow Path Coping so whether it is for the front entrance to your house or the stairs down to your dock, our step coping will get the job done with style. Designed specifically for stairways large or small. Our step coping offers beautiful design options and they look great with Glow Path Pavers.
Swimming Pool Coping – COMING SOON!
Coping is used around in-ground swimming pools that are constructed of concrete. Coping is a cap for the edge of the pool. Besides being a necessary part of a pool, the coping provides the homeowner opportunity for a decorative accent, Glow Path Pool Coping greatly enhances the appearance of swimming pools.